Who should attend?
Anyone requiring to safely and competently operate Oxy Fuel Brazing / Soldering equipment.
About the course
This programme will enable the delegate to successfully joint a wide range of materials by the Oxy Fuel process, using a range of low temperature filler materials such as brazing alloys, soft and silver solders.
Course content
Course Content
Course induction
Relevant health & safety legislation
Oxy Fuel equipment set up
Personal protection and safety equipment
Brazing filler material section and type
Silver solders selection and type
Nozzle selection and flame types
Applications and practice
Advantages and limitations
Course review and close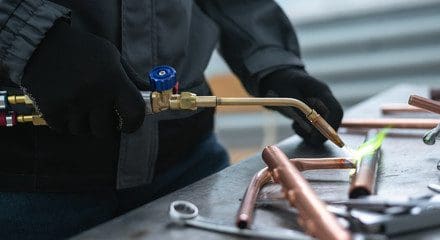 Waterside can deliver courses on Oxy Fuel Cutting, Oxy Fuel Welding, MMA, MIG and TIG Welding at your company site, or at our workshops in St Helens, conveniently located between Liverpool and Manchester in the North West.