MIG Welding Introduction
Who should attend?
This course introduces the delegates to Metal Inert Gas Shielded Welding (MIG). This course should be regarded as a foundation and be for individuals who are expected to carry out basic welding activities.
About the course
The emphasis of this course is on the practical aspects of welding and health and safety. The knowledge and skills gained will allow course members, to understand the function of the equipment and ensure that safe conditions for the use of MIG welding are met.
Course Contents
Health & safety
Application of safe working practices
Identify the components correctly
Connect the components correctly
Selection of basic welding parameter
Identify suitable consumables
Use of equipment, basic techniques
Production of welded joints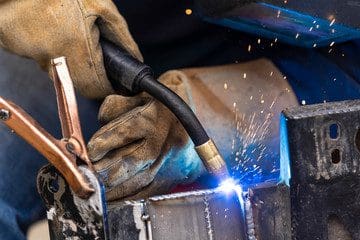 MIG Welding Skill Development
Who should attend?
This advanced module is designed for personnel who have a grounding or understanding of the fundamentals of MIG welding or have attended the MIG welding introduction course.
About the course
This course enables delegates to improve their technical understanding and practical skills of MIG welding systems. It will be assumed that delegates have prior knowledge of MIG welding equipment/process or have attended Waterside's basic introductory course.
Course contents
Health & safety
Application of safe working practices
Selection of correct weld consumables for specific application
Select correct weld parameters for specific application
Appreciation of modes of metal transfer
Assessment of weld quality
Basic trouble shooting
Production of a range of Welded joints in various materials and thickness as required
Waterside can deliver courses on Oxy Fuel Cutting, Oxy Fuel Welding, MMA, MIG and TIG Welding at your company site, or at our workshops in St Helens, conveniently located between Liverpool and Manchester in the North West.