Who should attend?
This course is recommended for employees who are designated to mount or use abrasive wheels.
The Abrasive Wheels course is delivered at Waterside Training, St Helens, Merseyside or can be delivered on client site subject to numbers.
Why is this course important?
There is a legal requirement for anyone who needs to change abrasive wheels to be trained in accordance with a code of practice and in line with The Provision and Use of Work Equipment Regulations 1998 (PUWER). This abrasive grinding wheels training covers both hand held and pedestal grinders.
Abrasive Wheels training can be held on client sites nationwide, or at our St Helens training centre conveniently located between Liverpool and Manchester in the North West.
Abrasive Wheels course outline
Course induction
Relevant legislation / approved advisory literature
Characteristics of abrasive wheels
Hazards arising from the use of abrasive wheels
Methods of marking, testing, handling and storage
Wheel mounting
Truing and dressing
Work rest adjustment
Wheel balancing
Fault finding
Personal protective equipment regulations and other relevant legislation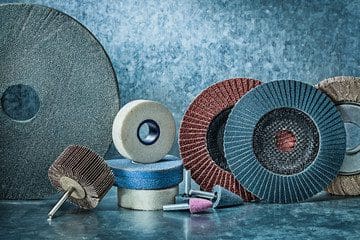 Click here for a printable outline of the Abrasive Wheels training course
On site training
Course can be carried out at customer premises if multiple staff need training. The trainer can review existing customer equipment with the staff as part of the course. This can help identify areas for improvement and opportunities to achieve better compliance with Abrasive Wheels regulations.