Who should attend?
This programme is aimed at non-electrical personnel who are required to understand and carry out basic electrical maintenance tasks and fault finding on electrical machinery.
About the course
This hands-on programme comprises of 2 x 5-day courses. Each course is deliberately planned to allow individuals to return to the workplace with new practical skills and knowledge to carry out basic electrical maintenance tasks. Delegates gain practical experience in using test equipment (e.g. multimeters, isolation testers, insulation testers etc.) as well as reading and interpreting circuit drawings. Delegates learn to wire up circuits and carry out fault finding on our electrical training rigs.
The training is formally certified through the awarding body EAL. Delegates must successfully complete the assessed practical tasks and knowledge tests on both 5-day courses in order to gain certification.
Electrical Maintenance Course outline
Week 1
Electrical Principles – fundamentals of voltage and current
UK power network – overview of generation and transmission
Basic First Aid – treatment of electric shock
Protective devices – understanding fuses, circuit breakers and RCDs
Safe isolation – practical procedures, including use of GS38 compliant testers
UK legislation and electricity – insight into Electricity at Work Act 1989
Electromagnetic induction – concepts behind motors, transformers and solenoids
Three phase AC induction motors – principles and basic testing
18th Edition Wiring Regulations – overview
Lighting and 13A sockets – testing of circuit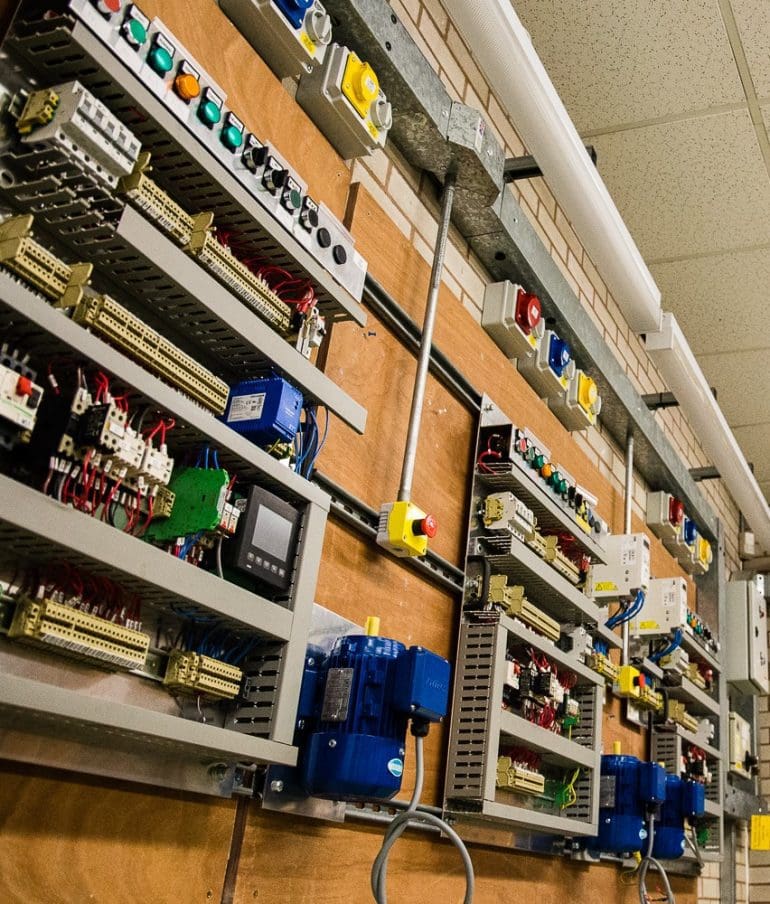 Week 2
Electronics – principles and practical setup of a DC power supply
Basic AC motor control – wiring up DOL, star-delta and forward-reverse circuits
AC Variable Speed Drives – principles and setup of simple drive system
DC and Single Phase AC motors – principles and basic testing
PAT testing – overview
Earthing systems – types of system, practical testing
Basic automation – design and wire up simple control circuits
Programmable Logic Controllers – introduction and basic programming
Static electricity – understanding of principles
Building Regulations and Part P – basic overview
Temperature control – basic understanding
Click here for a printable version of the Electrical Maintenance course outline
Bespoke courses
Waterside can modify the course to suit specific company needs. This can be an ideal solution for companies that need to train multiple delegates. Additional material can be added e.g. reviewing and understanding company electrical system drawings, incorporating fault finding exercises based on company equipment etc. Delivery timings can also be adjusted to suit. External EAL certification can be maintained as long as all core topics from the main course are covered. Alternatively, shorter versions of the course can be delivered based on the required topics.
Follow on NVQs
The 2 week Electrical Maintenance course can serve as underpinning knowledge for the EAL NVQ Level 2 in Engineering Maintenance (electrical pathway). If delegates are regularly working on basic electrical tasks with limited scope and risk, this Level 2 NVQ is a suitable competency qualification once they have completed the Electrical Maintenance course. The NVQ is delivered at customer premises through regular visits from Waterside assessors. For more on electrical training, contact Waterside on 01744 616 837 or use the Contact Us form to get in touch.
Please note, candidates attending this course are not considered as 'competent' after completion. Our aim is to focus on knowledge and provide guidance on the practical techniques of certain activities. Although there are mini assessments throughout the programme, there is no 'pass or fail' on this course. We will provide feedback to the delegates on their strengths and weaknesses and where further in- house training and guidance may be required.